粋な大江戸の坂の街
カグラザカドオリショウテンカイ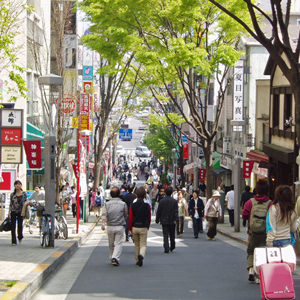 神楽坂通り商店会(26)
Selling point
粋な大江戸の坂の街
大正4年、神楽坂実業界創立。
昭和20年4月13日、戦災にて解散。
24年、神楽坂振興会設立。
41年神楽坂通り商店会と改称、今日に至る。

ほぼ山手線の中心に位置する神楽坂は、JR飯田橋駅、地下鉄有楽町線飯田橋駅、東西線飯田橋駅・神楽坂駅、南北線飯田橋駅、都営大江戸線飯田橋駅・牛込神楽坂駅と交通の便に恵まれ、「粋なお江戸の坂の街」として親しまれています。
近年、街路、街路灯を一新し、温かさと山の手の落ち着きのある商店街とのイメージを持たれています。

商店街の中心には毘沙門天があり、毎月5日・15日・25日には縁日の夜店を出店します。また、商店街を取り巻くように三業地が形成され、石畳の小路など花柳界の街並みが粋な雰囲気をかもし出しています。
靖国神社、北の丸公園、外濠土手公園と付近には緑も多く、家族連れ、友人恋人どうし一人歩きの散策など、どなたにも楽しんでいただける明るい商店街です。

A taste downtown of Oedo

Taisho 4th year, established Kagurazaka actual industry.
April 13, 1954, dissolved in the war damage.
24 years established Kagurazaka Promotion Society.
41 years renamed Kagurazaka Dori Shopping Committee, leading to today.

We located in the center of Yamanote line, Kagurazaka is blessed with transportation convenience with JR Iidabashi Station, Subway Yurakucho Line Iidabashi Station, Tozai Line Iidabashi Station · Kagurazaka Station, Namboku Line Iidabashi Station, Toei Oedo Line Iidabashi Station · Ushikari Kagurazaka Station , It is familiar as "a street of a stately Edo slope".
Recently renewed street and street lights, it has an image of warmth and a calming shopping street of the mountain area.

In the center of the shopping district is Vaiśravaen, and we open a night shop on the 5 th, 15 th and 25 th of every month on the fair. In addition, three industrial areas are formed to surround the shopping district, and the streets of Hanayanaga, such as stone pavement streets, create a tranquil atmosphere.
There are many green around Yasukuni Shrine, Kitanomaru Park, Uehoro Kotobuki Park and it is a bright shopping district that anyone can enjoy, such as walking around with friends and family with friends.
Topic
2018/01/29 13:35
Basic information
Chairman

齋藤 昭人

TEL

03-3260-3401

FAX

address

東京都 新宿区 神楽坂4-3

URL

http://www.kagurazaka.in/

Nearest station

JR、東京メトロ東西線・有楽町線・南北線「飯田橋」駅

Service info

2月に毘沙門天節分、7月に神楽坂まつり、12月に歳末セールなど