華盛楼(1)
Selling point
リーズナブルなランチも人気
十二社通りの裏にある広東料理店。
平日のランチタイムは700~800円で定食やセットが食べられるとあって、周辺サラリーマンでにぎわっている。
メニューは豊富で、中でもおすすめは、甘酢が効いた酢豚甘850円や、さっぱりとした八宝菜1,000円。
Basic information
Shop Category

Chinese Cuisine

Open hour

10:00~23:00

Closed

なし

TEL

03-3375-6616

FAX

03-3375-6616

address

東京都 新宿区 西新宿4-30-9-103

Member stores association

URL

Nearest station

都営地下鉄大江戸線「都庁前」駅より徒歩6分

Payment method

Impossible


Smoking info

smokable


Delivery info




Service info
Introduction
201509/1519:12
Introducer:十二社商店親睦会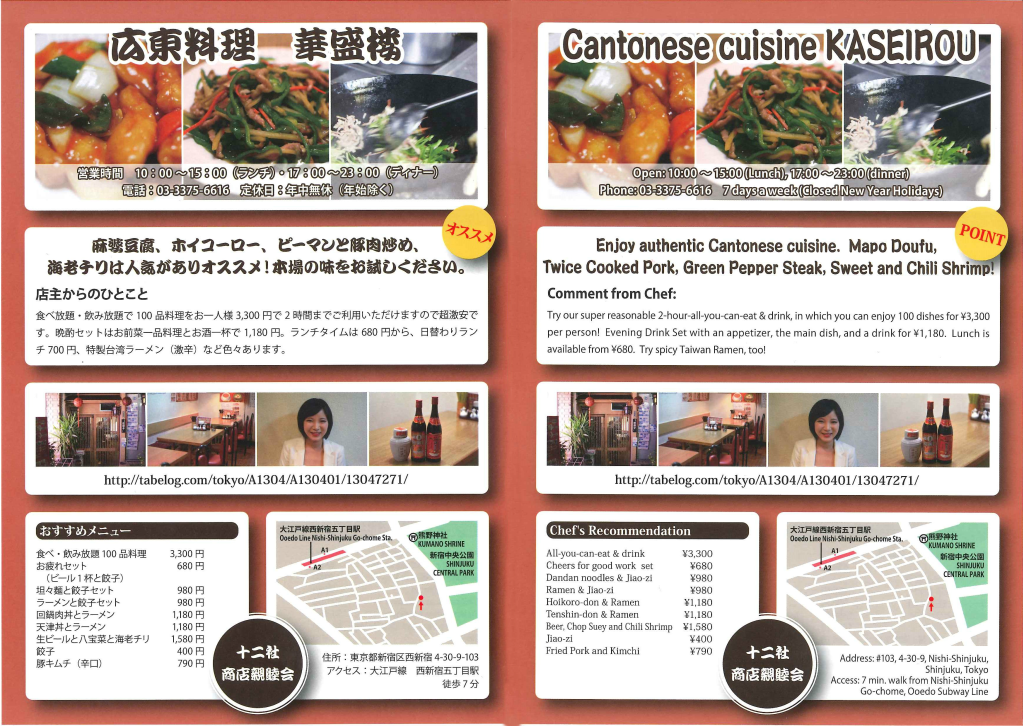 (オススメ)
麻婆豆腐、ホイコーロー、ピーマンと豚肉炒め、海老チリは人気がありオススメ!本場の味をお試しください。

(POINT)
Enjoy authenic Cantonese cuisine. Mapo Doufu, Twice Cooked Pork, Green Pepper Steak, Sweet and Chili Shrimp!

(店主からのひとこと)
食べ放題・飲み放題で100品料理をお一人様3,300円で2時間までご利用いただけますので超激安です。晩酌セットはお前菜一品料理とお酒一杯で1,180円。ランチタイムは680円から、日替わりランチ700円、特製台湾ラーメン(激辛)など色々あります。

(Comment from Chef)
Try our super
reasonable 2-hour-all-you-can-eat & drink, in which you can enjoy 100 dishes for ¥3,300 per person! Evening Drink Set with an appetizer, main dish, and a drink for ¥1,180. Lunch is available from ¥680. Try spicy Taiwan Ramen, too!
User
There is not a list of users.