"Shinjuku loupe" an SNS which links Shops in Shinjuku to customers.
Introduction
201509/1519:13
Introducer:十二社商店親睦会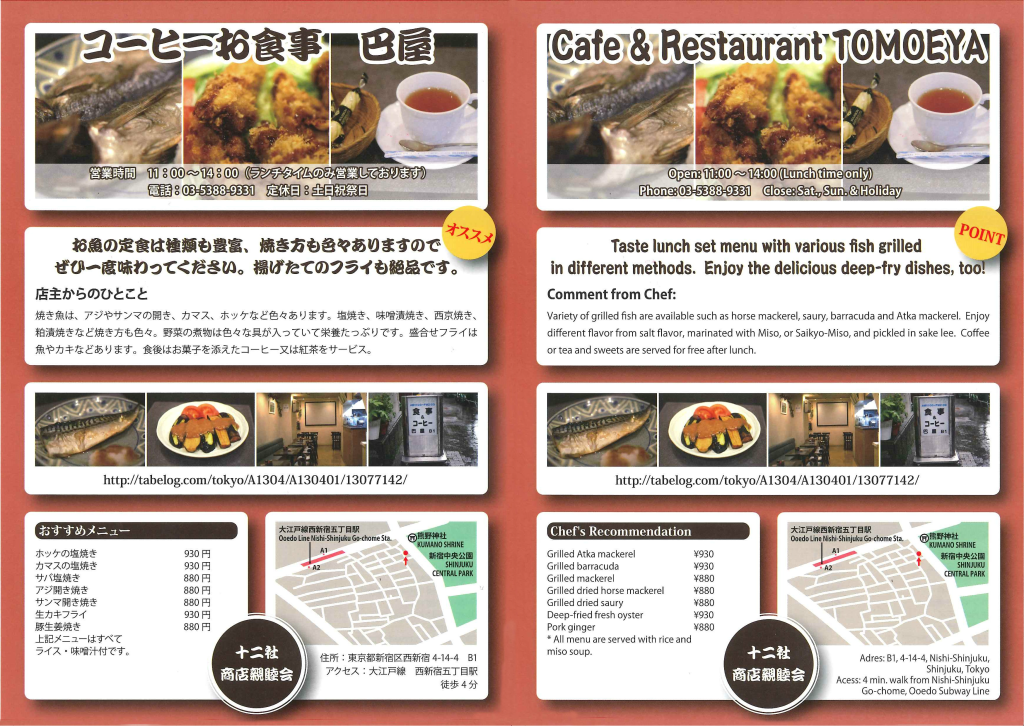 (オススメ)
お魚の定職は種類も豊富、焼き方も色やありますのでせひ一度味わってください。
揚げたてのフライも絶品です。

(POINT)
Taste lunch set menu with various fish grilled in different methods. Enjoy the delicious deep-fry dishes, too!

(店主からのひとこと)
焼き魚は、味や秋刀魚の開き、カマス、ホッケなど色々あります。塩焼き、味噌漬焼き、西京焼き、粕漬焼きなど焼き方も色々。野菜の煮物は色々な具が入っていて栄養たっぷりです。盛り合わせフライは魚やカキなどあります。食後はお菓子を添えたコーヒー又は紅茶をサービス。

(Comment from Chef)
Variety of grilled fish are available as horse mackerel, barracuda and Atka mackerel, Enjoy different flavor from salt flavor, marinated with Miso, or Saikyo-Miso, and pickled in sake lee. Coffee or tea and sweets are served for free after lunch.