手塚キャラクターの街路灯が見られる商店街
タカダノババニシショウテンガイシンコウクミアイ
高田馬場西商店街振興組合
03-3362-1204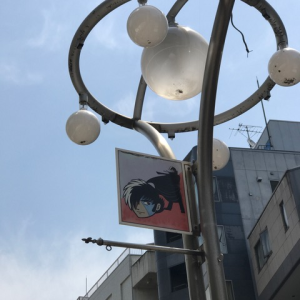 高田馬場西商店街振興組合(35)
Selling point
手塚キャラクターが見られる商店街
当商店会は昭和22年、清水川商店会、商誠会、昭和会、商睦会が合併し「新興会」として発足し、同42年11月「高田馬場西商店街振興組合」を結成、会名を変更しました。

年間においても定例の売り出し、大高田馬場まつり、チャリティーもちつき大会とさまざまなイベントを開催しております。

また、駅前には手塚治虫記念壁画を作製、早稲田通り添いには手塚キャラクターの街路灯が並んでおり、歩いているだけでも楽しい商店街です。手塚キャラクターに関する特徴は他にもあります。お食事をされる際にマイ箸を持っていくとアトム通貨が貰えたり、それを商店街のお店で使えるのも特徴です。

さらに現在、駅前美化運動、電線の地中化埋設工事、カラー舗装化を実施しております。

Shopping street where Tezuka characters can be seen

In 1954 shop association merged and in November 1942 the "Takadanobaba Western Shopping District Promotion Association" was formed,

We hold annual various events, "regular selling", "takadanobaba festival", "charity event of mochi making festival".

Also, in front of the station you decorate the Osamu Tezuka Memorial Mural, along with the Waseda Street there is a Tezuka character street light. That's why we are a fun shopping street just walking. There are other features related to Tezuka characters.Taking your own chopsticks when you eat, you can get the Atom currency and use it in shops in shopping districts.

In addition, we are currently implementing a station beautification campaign, underground burial construction of electric wires, color pavement.

Basic information
Chairman

吉澤 盛芳

TEL

03-3362-1204

FAX

address

東京都 新宿区 高田馬場3-12-6

URL

http://www.babanishi.com/

Nearest station

JR、西武新宿線「高田馬場」駅

Service info

定例の売り出し、大高田馬場まつり、チャリティーもちつき大会。駅前に手塚治虫記念壁画を作製、早稲田通り添いには手塚キャラクターの街路灯が並んでおり、歩いているだけでも楽しい商店街です。駅前美化運動を展開。電線の地中化埋設工事、カラー舗装化を実施