多国籍の飲食店が並ぶバラエティに富んだ商店街
イダイドオリショウテンカイ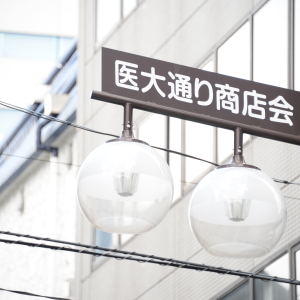 医大通り商店会(11)
Selling point
多国籍の飲食店が並ぶ楽しい商店街
私共の商店会は、昭和30年の秋、現在の5丁目~6丁目の通りを「T字街商店会」と銘打って結成されました。

初代会長は針ヶ谷丑次代氏で、当時は街灯4基が建てられました。
昭和47年9月には、石田外雄氏が2代目会長となり、坂の上にある東京医科大学の名称をとって、「東京医大通り商店会」と改称しました。街路灯は、当時の役員が中心となって設置をすすめ、会員の皆さんのご寄付によって、同年12月7日に22本が完成、盛大に祝賀会を開いて商店会の発展を祝いました。区商連へ入会をしたのもこのころです。

その後、新しく街路灯も24基建設し、街づくりに努力しています。会員全員、新宿の一翼を担う商店街となるべく、発展を願い、商店街活動を進めていきたいと思っています。

平成28年(2016年)、商店会名の由来でもある東京医大が創立100年を迎えます。合わせて商店会名も「医大通り商店会」とします。


A fun shopping street where variety of international cuisines line up

Our shop association was formed in the autumn of 1954, with the street of the current 5 - 6 - chome as "T character shop district".

The first president was Mr. Nobuya Nigigaya Omiya, and at that time four streetlights were built.
In September 1972, Mr. Sotoo Ishida became the second president,and this shopping association renamed the Tokyo Medical University street shopping association, using the name of Tokyo Medical University on the slope. The street lights were set up mainly by executives at the time, the 22 lights completed on December 7, the same year We are celebrating the development of the shopping mall by the grand opening ceremony with the contribution of the members. It is the time that We became the member of Shinjuku City Federation of Stores Association.

After that, we built 24 new street lights and are making efforts to community development. All of us would like to advance development of shopping districts which are a part of Shinjuku.

Tokyo Medical University, which is the origin of the name of the shop association, will celebrate 100 years in Heisei 28 (2016). At the same time the name of the shopping street association is also called "Medical University shopping street association".
Event
Date : 2018/10/28
Basic information