飲食を中心に他業種のお店が並ぶ商店街
メイジドオリショウテンカイ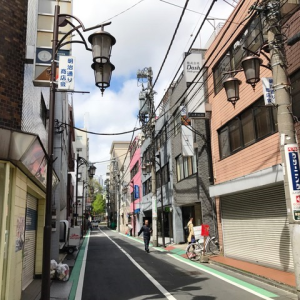 明治通り商店会(1)
Selling point
飲食を中心に多業種が並ぶ商店街
戦後の混乱もおさまり、明治通りにもポツリ、ポツリと商店が建ち始めて昭和25年、初代会長坂本三郎氏の呼びかけにより、街並みの整備と街路灯の設置を目的として「明治通りT字型商店会」が発足しました。

当会の地域は、当時の会名が示すとおり、靖国通りと明治通りの交差する新宿5丁目から北方400mほどの新田裏交差点まで、そこに隣接する会員から組織されています。
しかし、発展途上にあった同40年、首都圏整備法に基づく都市計画新道路建設によって、商店街中枢部が分断され、多数の会員が移転・脱会するという不運に見舞われました。ともすれば、会の運営にも大きな支障を来たした時期もありましたが、役員と会員の努力によって、組織を維持することができました。

現在は、銀行・証券会社、商店などの入った高層ビルが立ち並ぶ新しい商店会に生まれ変わっています。

Shopping districts where restaurants are mainly located in many industries

In the Meiji Dori, the disarray of the postwar period subsided, and also in the Meiji Dori, Potsuri and shops began to be built, and in 1951, with the aim of establishing the streets and setting street lights, with the aid of Mr. Saburo Sakamoto, the first president, "Meiji Street T- "Was launched.

The area of ​​the association is organized from members adjacent to it, from the Shinjuku 5-chome which crosses Yasukuni Street and Meiji Dori, to the Niiya-jima intersection about 400 meters north, as the name of the group at the time shows.
However, in the same 40 years that was in the process of development, construction of a new urban plan based on the Tokyo Metropolitan Area Development Law caused the misunderstanding that the major division of the shopping district was divided and many members moved and disengaged. Together, there was a time when the administration of the association had a big trouble, but by the efforts of executives and members, we were able to maintain the organization.

Currently, This shop association reborn as a new shopping mall with rows of high-rise buildings including banks, securities companies and shops.
Topic
Basic information
Published Member Shop